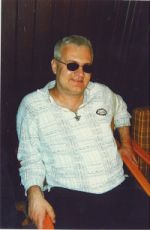 In 2007, the Ecce Jazz CD was awarded AUREL 2006 for the best release in te category of jazz&blues. AUREL is an annual prize instituted by IFPI, International Federation of the Phonographic Industry.
Pavol Bodnar – a jazz pianist, composer, arranger and teacher. In 1996, the Slovak Jazz Association awarded him the Ladislav Martoník Prize and the title Jazzman of the Year 1996 in Slovakia.
He was born in Banská Bystrica, Slovakia, on March 24th, 1959. He attended piano lessons from the age of six. His father was an amateur musician, who loved playing piano and violin and introduced him to the magic of American jazz. In addition to his study of European classical music at the Conservatory in Zilina ( 1976 – 1979 ) and biochemistry at J.A.Komensky University ( 1979 – 1984 ), he later attended prestigious Berklee College of Music for his jazz studies in Boston, Massachusetts, USA ( 1992 – 1993 ).
In 1990, Pavol was a finalist at the international jazz competition Concours Internationale des Thémes de Jazz in Monaco with his composition Cheerful Afternoon. This success resulted in his winning a full scholarship for the study at Berklee College, where he spent two semesters. In particular, he focused on jazz composition ( Ted Pease ) and jazz arrangements ( Jeff Friedman ). He also participated in diverse school programs, including for example the accompaniment of musical singers and the recording for the film scoring department.
As a pianist, arranger and composer, he has been working over the years with musicians of diverse styles, including the classical music projects, traditional jazz, swing, bebop, modern mainstream and American musical ensembles, as well as Latin, soul, R&B, gospel and ethno jazz bands. Among others, he has played with jazz musicians like Joe Muranyi, Harry Sokal, Larry Smith, Winand Gabor, Peter Cardarelli, Piotr Baron, Grzegorz Nagorski, Elsa Valle, Márkus Tibor, Errol Weiss Schlabach, Barbara Montgomery, Enzo Ruggieri, Philippe Lavoipierre, Peter Lipa, Jaroslav Country Červenka, as well as with groups – Peter Lipa Band, Peter Cardarelli & Pavol Bodnár Band, Slovak Polish Jazz Quartet, Close Harmony Friends, Polemic, VladoVizar Jazz Quartet, All Time Jazz Trio, etc.
Nowadays, he works mainly for two bands, the InterJAZZional Band and V4JAZZ. While his previous work and piano style were formed by both European classical music and American jazz from the 1930s to the 1970s, recently he has begun experimenting with use of Centraleuropean folk music motives. His compositions reflect diverse influences he soaked up from the childhood. In his music, the Slavic melodic, Latin rhythms structures and North American jazz harmonies are noticeble, whereby all these together are joined in a unique eclectic music concept. Considering formal frames of Pavol´s modern compositions, he uses typical jazz forms as well as original forms naturally created by means of compositional techniques of modern classical music ( CD Ecce Jazz, Hevhetia, 2006 ).
Pavol, as a pianist, is a skilled improvizer in general terms. He has two strengths – the accompaniment of singers and spontaneous improvizing over baroque forms.
He often works with jazz singers as well as theater ensembles singers. He, for instance, played in Freie Buehne Wieden, Vienna, in Astorka theater, Bratislava, etc. Nowadays, he also teaches both the musical and pop singing at the Church conservatory in Bratislava.
In 2000, Pavol was headmaster of the J.S.Bach anniversary concert Bach In Jazz & Jazz in Bach, that took place in Slovak Radio, Bratislava.
For the recording of acoustic piano, he uses DPA microphones.